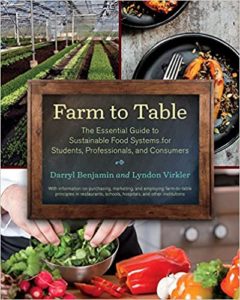 Nearly a century ago, the idea of "local food" would have seemed perplexing, since virtually all food was local. Food for daily consumption―fruits, vegetables, grains, meat, and dairy products―was grown at home or sourced from local farms.
Today, most of the food consumed in the United States and, increasingly, around the globe, is sourced from industrial farms and concentrated animal feeding operations (CAFOs), which power a food system rife with environmental, economic, and health-related problems.
The tide, however, is slowly but steadily turning back in what has been broadly termed the "farm-to-table" movement.
In Farm to Table, Darryl Benjamin and Chef Lyndon Virkler explore how the farm-to-table philosophy is pushing back modern, industrialized food production and moving beyond isolated "locavore" movements into a broad and far-reaching coalition of farmers, chefs, consumers, policy advocates, teachers, institutional buyers, and many more all working to restore healthful, sustainable, and affordable food for everyone.
Price: $10, Free Shipping, Used – Like New
Contact GoodFood World to buy this book.