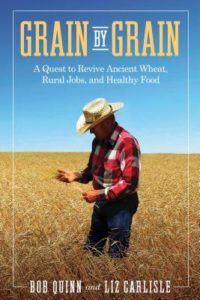 Grain by Grain, Bob Quinn and Liz Carlisle (Island Press, 2019)
Bob Quinn is a "local boy done good:" a serial entrepreneur, an organic farmer, and contributor to nutritional research studying the health benefits of ancient wheat compared to modern wheat.
Grain by Grain covers all three areas in detail and describes how they are interrelated and contribute to better local and regional economics.
Farmers – especially those who make a living growing commodities for processing and export – need to be encouraged and paid a living wage to become an active part in regional food systems that produce healthful food grown on healthy soils for their neighbors and local communities. Grain by Grain offers a "play book" for those farmers who want to work together to care for their land, their farms, and their families, and even grow fruit and vegetables in Montana's dry climate.
Montana Flour and Grain, a mill Bob built in the mid-1980s, cleans and mills organic grains for cooking and baking, and one of Bob's more recent ventures, The Oil Barn, presses safflower oil. Together with Kamut® brand Khorasan wheat (the "giant wheat" Bob has grown since the 1970s), these companies form the basis for a healthful grain-based diet that can produce lower cholesterol, lower blood sugar, fewer digestive issues, and significant less inflammation. Kamut® has also been shown to be less likely to trigger non-celiac wheat sensitivities.
While the early part of Grain by Grain covers Bob's move from conventional commodity farming to specialty organic farming, following chapters talk of the need to develop close partners, the value of limits, a sense of place, food as medicine, and growing a new generation of farmers and ranchers.
Get your copy of Grain by Grain here and explore the wide range of creative endeavors that Bob, his family and partners, and his community have launched and continue to develop. Good food starts with consumers and producers who recognize that food "grown on the cheap" can ultimately contribute to health issues that are extremely expensive in the long run.
More Resources:
Kamut® International Research
Montana Flour and Grains, Fort Benton MT
The Oil Barn, Safflower Oil, Big Sandy MT
Kracklin' Kamut®, Wheat Snacks, Big Sandy MT