(Click on any picture to see a larger image.)
What happens when two friends start dreaming about opening a distillery and making whisky in central Montana? Mix in shared childhood memories, inherited Helena red hair, and a love for single malt whisky, and you get Gulch Distillers.
Wheat and barley are an integral part of Montana's economy; the state produces more than 250 million bushels of these two grains, and its "two-row barley" is valued by maltsters around the world for its excellent quality.[1]
Both grains have been used for millennia as the basis for bread, beer, and… spirits. And, today, as craft production of bread and beer enjoy a resurgence, so too does the craft production of distilled liquor. And what better location than Montana for the distillation of grain-based liquor, such as vodka, gin, and whisky?
Turning a Young Man's Dream into Reality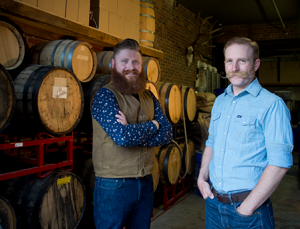 Flamboyantly mustachioed Tyrrell Hibbard and full-bearded Steffen Rasile grew up attending the same Helena schools just a few years apart. And in a small town like Helena, if you share any interest you're likely to meet. It was an offhand comment, "Nice mustache, you should join the club," that introduced the two and brought Tyrrell to Steffen's "Beard and Mustache Club." The fact that the two share a special shade of red hair cemented the relationship.
The friends were also members of Helena's Scotch Whisky Tasting Club where they shared not only some great whisky, but discovered they shared a dream, "Wouldn't it be cool if we could make our own whisky from Montana grains?" It was an idea Tyrrell had nurtured since studying at the University of Edinburgh in Scotland, where he was introduced to the world of whisky and its manufacture.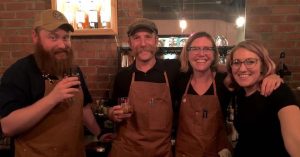 For more than 3 years, the two shared the dream and kept it alive, never really taking it seriously. Then they started planning for their own distillery and looking for a location. In what could be called fate, they discovered the owners of a newly launched distillery were moving and needed to find the right buyers for their business.
"It was a great way to get into the business," says Tyrrell, "because we didn't have to go through the complex local, state, and federal permitting and approval process." The hard work of locating the perfect building – appropriate for manufacturing, with a loading dock, and the approved distance from a school or church – and working through the regulatory and permitting system can be especially challenging for someone in the relatively new craft distillery industry. As it was, Tyrrell and Stephan could step right into a functioning distillery, with a budding brand, and product to sell – a business already in place.
A New Name and a New Brand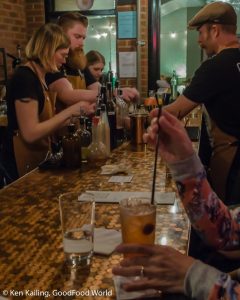 In mid-2015, the two took over Triple Divide Spirits, itself a young business, and slowly began the process of recasting the brand and product offering to reflect their own vision. A re-launch in November 2016, introduced "Gulch Distillers" to the community.
"Gulch" – defined as a V-shaped valley formed by erosion – is a quintessential Montana word and forever linked to Helena's history. A group of miners, out of provisions and down on their luck, took one last chance as they swung through "Last Chance Gulch" on July 14, 1864. The town of Helena grew out of the mining camps set up on the banks of Last Chance Creek.
Gulch Distillers has a hometown feel and offers hometown products. Tyrrell and Steffen use Montana-grown grains in their grain-based spirits, and use locally grown herbs, fruits, and other products when possible on both sides of the business – botanicals in the factory and fruit and berries at the tasting bar.
"We have a plum-infused vodka special right now made from plums grown at my mother-in-law's house. We have a chokecherry-infused vodka coming up and a raspberry-infused one in the works," says Tyrrell. "It's a way to use fruits and berries when they're seasonally available. We start the infusion process and, in 6 months, when the fruit is completely out of season, we serve it. That is a fun part of the craft."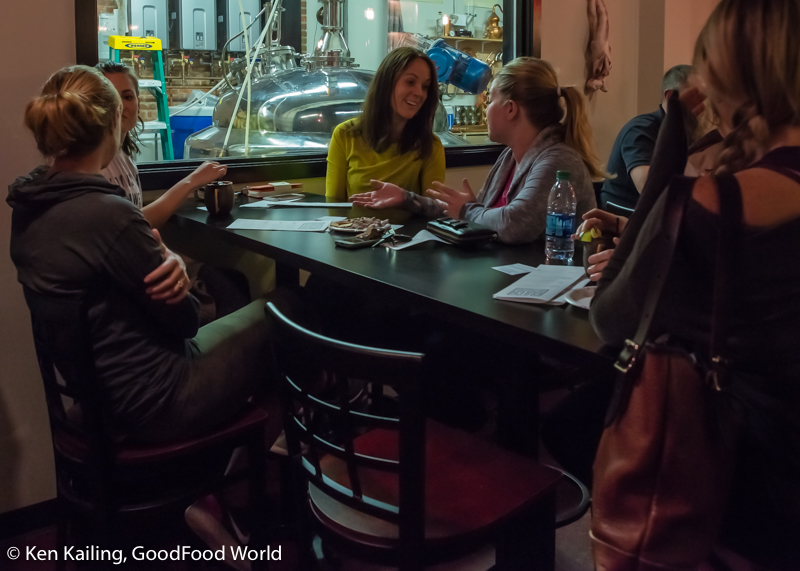 Gulch Distillers offers four products sold in the sampling room and in bottles for off-premises consumption:
Triple Divide Vodka – made from Montana-grown wheat and malted barley.
Guardian Gin – also made from Montana-grown wheat and malted barley.
Burrone Fernet – is a bitter liqueur – an old fashioned, Italian-style digestif – distilled from a base of Montana grains and incorporates a unique blend of herbs and spices including chamomile, myrrh, rhubarb, saffron, and mint.
Flintlock Bourbon Cask Spiced Rum – is not grain-based but made from sugar cane.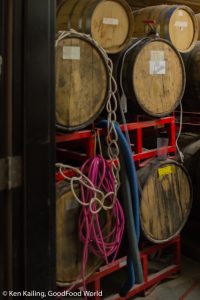 There is a fifth product – a single malt whiskey now quietly aging in casks – that won't be ready for market for some time. "Making a single malt whisky out of barley that is grown and malted in Montana has been a goal of ours from the beginning," says Tyrrell.
There is no hard and fast rule about how long whiskey needs to age in the cask. By American law, if it's aged less than 4 years the label must have an age statement on it. By Scottish law, for Scotch whisky, the minimum is 3 years.
Because it takes so long for whisky to mature, Gulch Distillers starts a new batch every few months so there is a continuous cycle of product as time goes on. The constant introduction of new batches is also an insurance policy, "We can't wait 4 years to find out if we've done it right and, if we're lucky, we'll have stock to sell."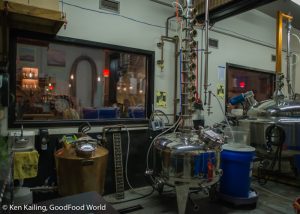 To distill spirits, you have to figure out how to work with a biological process to turn out an appealing product, and each ferment is different from the previous one and the next one. These are living "yeastie beasties" working in the vats and different environmental conditions, different cultures, and differences in grain batches are just a few of the variables the equation. It's managing the delicate balance between living creatures and chemical processes that challenges the skills of the distiller, and where he can demonstrate his (her?) craft.
This is the first time that whisky has been aged in this environment, in Helena MT. "We're always trying to figure things out," said Tyrrell. "It's a big puzzle. While it is a lot of fun, it can be really frustrating sometimes. So it's really gratifying when something goes right."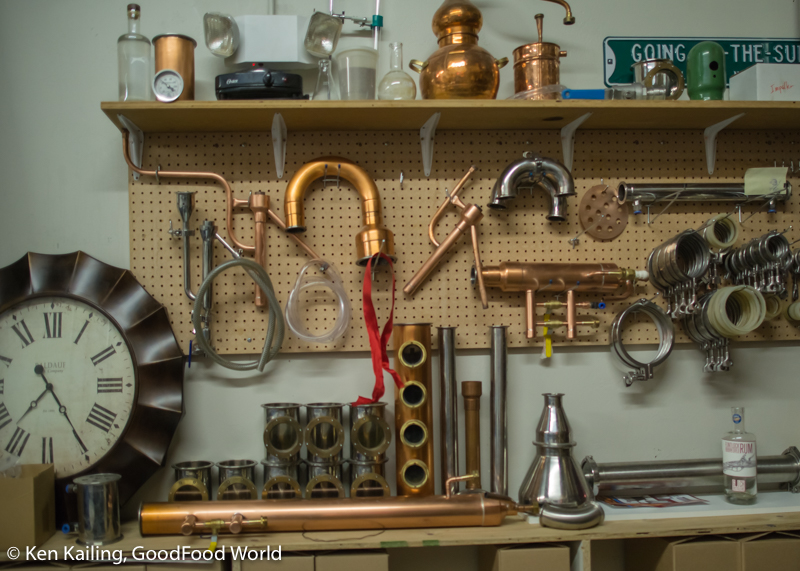 The Future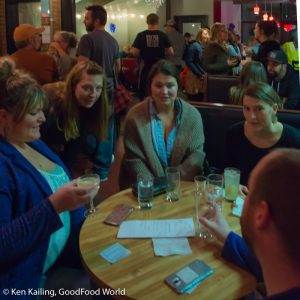 At their current location, Tyrrell and Steffen can't stretch their physical space but they can get more efficient. They are in the process of redesigning the sampling room and changing the bar and seating to make it cozier and more streamlined. Because the distillery is not at full capacity for production, they will continue to increase their output and sell more wholesale and off-premises.
The next step is to market the Gulch Distillers brand, get more shelf space around the state, and reach beyond the Montana market. "We'd like to target Chicago, New York, Washington DC," says Tyrrell. "Who knows? We have work to do before we get there."
In the meantime, to continue to support their hometown, home-grown, home-distilled values, Tyrrell and Stephan are about to start working with a single wheat grower for their neutral grain base. "That will change our grain profile and we'll see how it affects the product."
And for future new products, the partners will experiment with other "wheat relatives" like spelt and emmer, also grown in Montana. The Gulch's grain-based products can be made with any cereal grain, and while the results will certainly vary, the new liquors are sure to be truly unique to Helena!
Like good bread and good beer, good spirits come from carefully managed processes. And the very best fermented food and drink comes from skilled hands using ingredients from known and respected sources.
While Montana may be new to the world of craft distilling, we fully expect to see Gulch Distillers developing into a recognized and appreciated Montana brand.
Here's to you, Tyrrell and Stephan!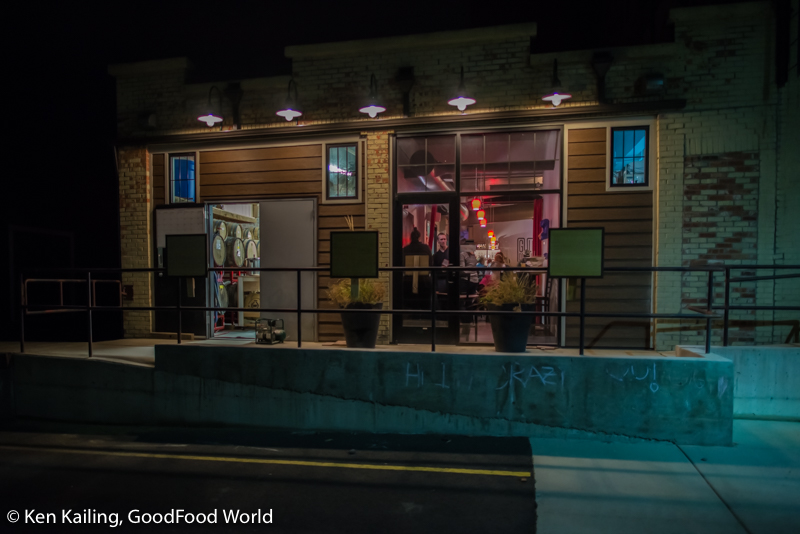 ---
[1] Montana Wheat and Barley Committee, http://wbc.agr.mt.gov/
Save
Save
Save
Save
Save
Save
Save
Save
Save
Save
Save
Save
Save
Save
Save
Save
Save
Save
Save
Save
Save