Muesli
This classic Swiss breakfast recipe (from my girlfriend's aunt in Switzerland) made from uncooked rolled oats, dried and fresh fruits, and ground nuts, is heavenly. We eat this in warm & hot weather only, since it requires no cooking, and is simply refrigerated overnight. Quantities are up for grabs depending on how much you like of any particular ingredient. Depending on how watery you like it, the oat milk is delicious and lightly sweet. It is so clean, healthy, and refreshing!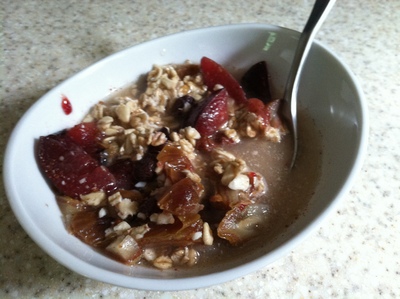 Ingredients
2 cups rolled oats (10 minute version, not "quick 1 minute oats)
2 generous or small handfuls of raw almonds, chopped to your liking by hand (chunky) or in a food processor (finer)
Handful of black raisins
2-3 summer plums or pluots, chopped
7 – 8 dates (I prefer medjool) – chopped in pieces
Cinnamon to taste
Dash of pure vanilla extract
Optional
Handful of yellow raisins
Dried cranberries
Variation:
2 unpeeled apples chopped up however large or small you like them – or blended. (It tastes great with a Granny Smith & 1 red apple. I prefer bigger chunks.)
Directions
Add all the ingredients together in a container that can be sealed and placed in the fridge. I like to layer them, beginning with the oats on the bottom. Then add sufficient water to cover the oats and fruits by ½" – 1". (If you don't add enough water, the oats will soak it up and you can add more.
Sprinkle with cinnamon to taste.
Lightly pat down so ingredients are covered in water.
Cover, and let sit overnight in the refrigerator.
Enjoy cold.
This is a recipe I enjoy all summer and into warm September days. This is easy to make and so refreshing to eat. I hope you'll try it. Here's to an enjoyable and delicious rest of summer. See you in September.
---
About Ina Denburg

Ina is a Lifestyle Coach and Wellness Educator who has lived and worked on the path of health and wellness for 30 years. She is passionate about wellness, her practice continuumLiving, is devoted to helping others discover, define and live it for themselves – at home, at work, and in school.
GMO-Free Kitchen – a service Ina provides for individuals or groups. All consumer aspects from understanding to eliminating GMO foods, from cleaning them out of your pantry to shopping and replacing with upgraded food items, to learning how to cook delicious GMO-free meals.
Read more about Ina's background and experience here.