Every year at Easter, ham takes the spotlight. A traditional slow roasted smoked ham with brown sugar glaze was my family's favorite.
Yet what about the "forgotten ham" – the uncured, fresh ham? Pick out a fresh picnic ham (shoulder roast) and you've got a delicious alternative for the holidays.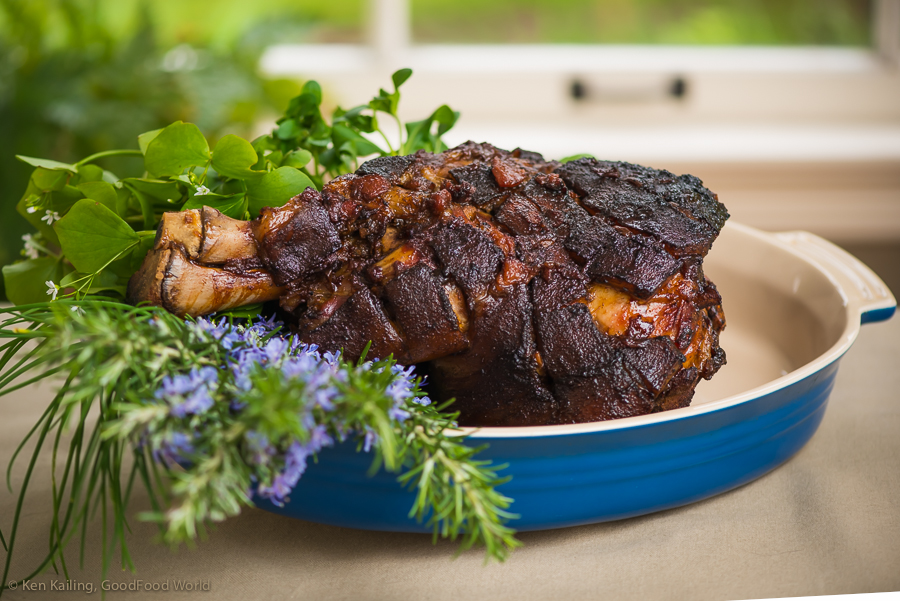 When choosing your ham – or any meat – know who raised the animal and how. Healthy animals raised with care and compassion produce good meat.
Meat animals, like pigs, have lived in close proximity to humankind for millennia; today they are most often crowded into cages and pens from birth to slaughter.
Our roast came from Crown S Ranch, where Jen Argraves and Louis Sukovaty practice organic and humane animal husbandry. The husband and wife team raises cattle, pigs, sheep, and poultry humanely, on organic pasture, and without toxic drugs or chemicals.
Jen and Louis protect and enhance their farm's environment and maintain a balanced ecosystem by integrating traditional animal husbandry with innovative technology and natural cycles.
Preparing Your Roast
8-9 pound bone-in pork picnic (shoulder) roast
1-2 cloves of garlic, cut in half
1 TB ground sage
1 TB ground cumin
1 TB sugar
1 TB ground ginger
1 TB salt
1/2 tsp ground mustard seed
1/4 tsp ground cloves
fresh black pepper
1/2 C dry white wine
1/2 C chicken broth
Purchase a roast or ham with the skin on if possible.
Rub the garlic halves over the roast.
Using a VERY sharp knife, cut through the skin in a diamond pattern, just touching the surface of the meat. If you cut at different depths or barely score the skin, it will shrink and pull.
Cut the garlic into thin slices and insert the slices into the cuts into the fat.
Combine the dry ingredients into a savory rub and use your hands to apply the rub to all the sides of the meat. Use it up!
Put the roast in a roasting pan, and pour the wine and broth into the bottom of the pan.
Cover and roast slowly (275°F) for 3 hours, then remove the cover and roast for an additional 3+ hours depending on the size of the roast. Baste the roast every 30 minutes with the liquid in the bottom of the pan.
The meat should be very tender, almost falling off the bone.
Remove the meat to a platter, cover with foil and let rest for at least 20 minutes before cutting.
In the meantime, skim the fat from the meat juices and reduce the liquid in the pan to a syrup.
Serve thinly sliced with pan liquid as gravy.
Adapted from Good Meat by Deborah Krasner (Stewart, Tabori & Chang, 2010)