There are foodie magazines galore and even more than a few magazines focused on building a just and sustainable world, but not too many that combine both.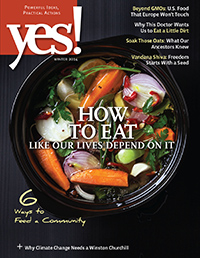 The Winter 2013 issue of Yes! Magazine is just that – a focus on taking back our food, building healthy and sustainable food systems, and eating "like our lives depend on it!"
This issue opens with executive editor Sarah van Gelder reminding us:
We've lost our taste for cooking, and with it the pleasures of sharing food with family and friends. We've been told industrial food is quicker, cheaper, and tastier. Turns out that's wrong. Here's how we rediscover the joy of real food, spiced with love and tradition.
Here are a couple of articles from this winter issue:
If it's too late to get a copy from your favorite bookstore or news stand, order a back issue here.
And say YES! to access to good food for everyone!