Adapted from Peter Barley – Fresh Food Fast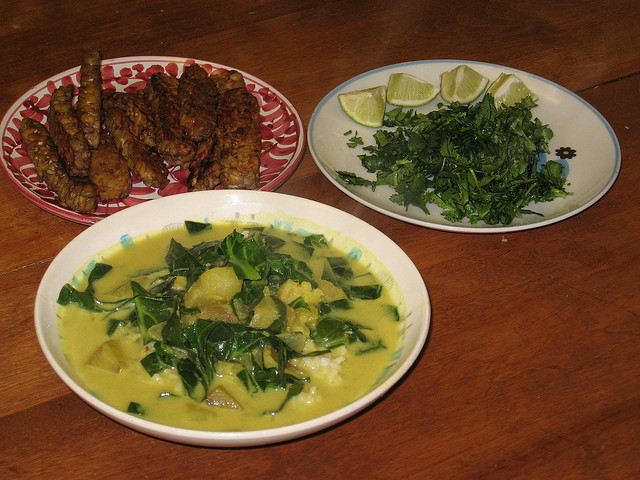 A girlfriend once brought this to a potluck and it was so fantastic I had to share it. This soup is easy to make as well.
Yield: 4 servings
Ingredients
2 TBS extra-virgin olive oil
2 cups diced onion
2 tsp. coarse sea salt or kosher salt, plus additional to taste
1 -2 yams/sweet potatoes, peeled and cut into 1 inch chunks (about 4 cups)
3 garlic cloves, finely chopped
1 small jalapeno pepper with seeds, minced
1 TBS. minced fresh ginger
1 teaspoon ground coriander
½ tsp. turmeric
1 (14oz.) can coconut milk
1 small bunch collard greens, though stems removed, and leaves cut in half along the rib, and then crosswise into ¼-inch-wide strips
1 lime cut into wedges
½ cup roughly chopped cilantro, for garnish
Directions
In a large saucepan (or soup pot) over medium heat, warm the oil. Add the onion and a pinch of salt, and sauté until softened, for 3 – 4 minutes.


.

Add sweet potato, garlic, jalapeno, ginger, coriander, and turmeric and sauté for 2 minutes. Add 2 cups of water, the coconut milk, and 2 teaspoons of salt, raise the heat, and bring to a boil. Reduce the heat and simmer, covered, for 15 minutes.


.

Add the collard greens to the soup and simmer, uncovered, until tender, about 10 minutes. Add a bit of water if the soup is too thick.


.

You can also puree the soup by mashing the cooked yams with a potato masher, or you can fully puree it with an immersion blender if you want.


.

Serve soup with a slice of lime and sprinkle with fresh cilantro.


.

For a fuller meal in a bowl, serve with jasmine rice and several crispy tempeh strips on top.
Variation: You can use torn kale pieces instead of collards. Just add them to the soup at the end and stir. Cook for 2 -3 minutes at most. They will wilt down immediately and remain vibrant in color.
_________________________
Photo credit: oh estelle, (used with permission under Creative Commons license)