Editor's Note: Our Minnesota shepherdess, Lea McEvilly, had to take a brief medical leave to deal with Lyme's disease. One of the hazards of living in "deer country" in Southeast Minnesota!  At 87, it was a challenge, but she told us she was more worried about being late with planting her vegetable garden. Lea is back at her keyboard filling us in on her sheep raising adventures and misadventures! Welcome back, Lea!
---
1994
January: A tough winter keeping up with the chores of feeding, watering, and bedding 50 mature ewes, and 30 bred ewe lambs. They would all be in the barn until the older ewes were close to lambing in late March, at that point the young ewes would be moved to the south end of the granary.
February: Toward the end of the month, it was finally time to get the wool off those sheep!
The shearers came, and we had one wildly busy and stressful day getting all the various groups of sheep to the shearing pen, then moved out of the way for the next group. First the hugely pregnant older ewes, then the bred ewe lambs, then the rams were shorne, and eventually returned to their original place in the barn.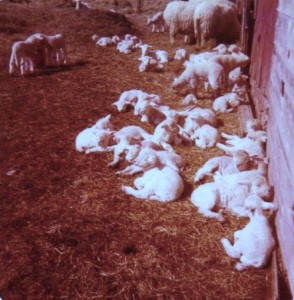 It was a great relief to me, and no doubt also to the sheep, when the job was finally finished and all the wool bags, packed with about 700 lbs. of wool, were loaded onto the truck. Now there was more room to move around in the barn since the sheep lost their thick wooly coats, and they would shiver for a couple days. However, with their wool gone, they would put out more body heat and soon the barn would warm up a bit, we would all be more comfortable, and we would have a bit of a lull in the activities before we had to move the young ewes to the granary.
March: Early in the month, Jerry, whose health was always precarious, suffered a stroke and was hospitalized for a week. Fortunately, he did not have any paralysis, but his speech and vision were affected, and he had some confusion. It was a frustrating time for him, but he was slowly improving. He was not able to read for awhile, and since he was a great reader, that was disappointing, but gradually the ability to read came back, and that was a blessing!
With all the hospital trips, during and after Jerry's hospitalization, I was far behind with the preparations for lambing, which was imminent, so I was desperately trying to get all my supplies in place, as well as get my taxes filed before the onset of lambing. I did manage to get it all done, and the young ewes moved to the granary before the onslaught began, but it was much too close for comfort!
The mature ewes began lambing the last week of March, and continued through the first half of April. Just as they were finishing up, the ewe lambs were starting to lamb. Happily, the older ewes and their lambs were very shortly moved to pasture, and that helped a lot, as I could then move most of the young ones back to the barn, where there was water available. Carrying water to the granary was an unwelcome task!
The young ewes needed closer attention than the older flock, but most were very good at mothering up, and there were not too many problems. I had sold three of the young ewes to another producer in early April, so I was down to 27 to lamb out. That was still a bit of a crush for the granary's facilities, so I was happy to have the barn freed up for the young ewes.
May: Sheba had matured into a wonderful guardian dog by the time the flock went to pasture. During the first rotation we moved very fast in order to keep up with the spring flush of grass, so we did not use the paddock system until later on. The sheep had access to a much larger pasture area, and Sheba went to pasture with the flock early every morning. She constantly patrolled the perimeter of the pasture to make sure there was no danger, and the sheep accepted her as part of the flock. We were really pleased to see how natural it was for her to guard the flock!
Sadly, later in the month we had to have our beloved cat, Honey, put to sleep. We had her for 20 years, and would miss her greatly, but now she was becoming very arthritic, and had trouble eating, so it was kinder to let her go.
Our good vet, John, who was always helpful in these situations, came out to the farm and put her to sleep very peacefully. Then shortly, a strange thing happened! Our other cat, ZhuZhie, that had never been very sociable, did not care to be petted, and never purred, suddenly took on Honey's personality, and became a very loving, affectionate cat who gave us much pleasure for almost another 20 years.  Animals never cease to amaze!
June: There had been plenty of moisture – 7.5″ of rain May – so the flower and vegetable gardens were plentiful and bountiful. However, I was finally sick and tired of mowing lawn, a task I usually enjoyed! But two days after it was cut, it needed mowing again! And the pastures… by the end of the month, we were already into the 3rd rotation of the year!
July: Early in the month I hired Mike Steele, one of my young friends, who had spent quite a few childhood days at our farm, to come with his "cat" and take out the boxelder trees that were causing a ditch just before the first knoll in the front pasture. He then brought in eleven loads of fill, made a nice swale, and seeded it down with brome and annual rye grass.
It turned out beautifully, and  was not only a pleasure to look at, but I was now able to see my sheep when they were in the front pasture! Jerry thought it was terrible of us to take out those boxelders.. To him, a tree is a tree, even if it's a "weed tree!" But after it was finished, even he thought it looked much improved. And, the ditch is gone! (reminiscent of "The Witch is Dead" song in the Wizard of Oz. We were singing, "The ditch is gone, the ditch is gone, the dirty old ditch is gone!")
Mike had a young hired man, Steve, who helped him out, and while Mike was working with the "cat" out front, Steve and I worked on enlarging and improving the brick patio just off the sunroom. It turned out very nice and was a much more enjoyable place to raise flowers, grill out, etc.
Once these projects were completed, it was time to suffer through the annual weaning trauma. Separate the lambs from their mothers and then do our best to keep them apart! This is one of my least favorite activities having to do with raising sheep! Nevertheless, after several days of noisy protests from lambs and ewes, peace returned to the farm, and life went on!
Once the weaning was complete, my recently married nephew, Howard, and his bride, Joan, came to pick out two ewe lambs, and also a 4-H wether lamb. Joan had visited during lambing in the Spring, had fallen in love with the lambs, and decided she had to raise sheep.
They lived on a farm about two miles from us, so we made the arrangement that they could bring the ewe lambs back in the fall for breeding, and I would keep them with my retained ewe lambs through the breeding season, thereby avoiding having to purchase a ram for two ewes. They could pick their lambs up once the breeding season was over.
In the next story, you will find out how this arrangement turned into the best practical joke ever!