Organic Farming for Health and Prosperity, Organic Farming Research Foundation (August, 2012)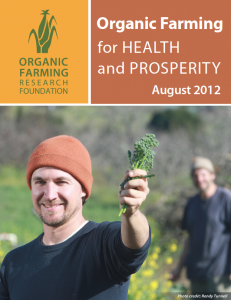 This comprehensive report extols the multiple societal benefits of organic farming in North America. To partner with stakeholders who share in these benefits, OFRF produced this document for policy makers, educators, researchers, healthcare professionals, business leaders and families, like yours and mine.
Organic Farming for Health & Prosperity is a review of North American scientific literature concerning organic farming in the United States and Canada. The report examines the multitude of benefits that organic agriculture can provide and identifies the key ways in which agricultural policies in the United States could support organic farmers.
What is organic farming and why is it important? Organic farming is agriculture that makes healthy food, healthy soils, healthy plants and healthy environments a priority along with crop productivity. Organic farmers use biological fertilizer inputs and management practices such as cover cropping and crop rotation to improve soil quality and build soil organic matter. By increasing the amount of organic matter in the soil, as nature does on a forest floor, organic farmers enhance the soil's ability to absorb water, reducing the impacts of droughts and flooding. Improving soil organic matter also helps it to absorb and store carbon and other nutrients needed to grow healthy crops which, in turn, are better able to resist insects and diseases.
Organic foods command premium prices in the United States and safeguards are in place to ensure that consumers are getting the quality products they are paying for. Farmers and food processors must meet strict regulations to gain organic certification and the right to use the phrase "organic" on their packaging and in their marketing. Only agricultural products that are certified as meeting the national organic standards implemented under the U.S. Department of Agriculture's (USDA) National Organic Program qualify.