Tucked into a Ponderosa pine woods at an elevation of about 2,300 feet, Pine Stump Farms, Omak Washington, is just 30 miles south of the Canadian border in the central Washington Okanogan Valley. It was not far from here that Carey Hunter, who originally homesteaded in 1971 in Tonasket WA, just 25 miles away, met Albert Roberts – mechanic, forester and farmer.
A high-elevation pine/shrub-steppe environment with 12 to 15 inches of annual rainfall means it is necessary for Hunter and Roberts to take a holistic approach to farming and balance a wide range of business activities to succeed.

Holistic Management
Originally developed by Allan Savory to help dryland range managers in Africa, Holistic Management is a decision-making framework built on the Triple Bottom Line approach to businesses. The approach considers humans, their economies, and the environment inseparable.
Holistic management and land stewardship is based on several key principles:
Nature functions in wholes – you can't control or change one thing in one area without having an impact on something else in another area.
All environments are different – it is crucial to acknowledge nature's complexity and that an action can produce completely different results in different environments.
Properly managed livestock can improve land health.
For Carey and Albert, stewardship of their land means working with their location, finding its benefits among the challenges and applying their wide range of talents and skills to the business of integrated farming in the Colville Indian Reservation. "Pine Stump originated with the idea of living in harmony with the land," says Carey. "And, if we were lucky, we believed we could make a living that would support us and our various efforts here."
The Farm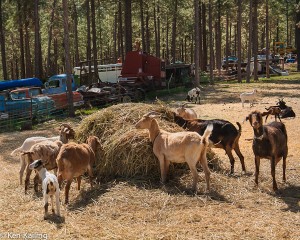 The farm is both the heart and headquarters of many forms of commerce from the sales of products and services to barter and exchange. Over several years, beginning in 1989, Albert and Cary grew their original 40-acre purchase into 174 acres, and they now lease 400 more acres for growing hay. An agreement with the Colville Reservation gives them access to thousands of acres of pastureland for their cattle.
Pine Stump is a fully integrated farm that blends timber production, a variety of livestock, and crop production with a goat milk dairy and cheese facility. The farm is home to 30 cow/calf pairs, 42 nannie goats and 82 kids as well as 3 billies, 8 horses, dozens of laying hens and broiler chickens, a handful of purebred Siamese cats, and a couple of dogs.
When exploring the farm, you may be surprised to find yourself face to face with a cow that sports an unusual set of horns and her calf. The pair along with an accompanying bull are Ankole-Watusi, a savannah cattle breed originating in Africa. The three are part of a project belonging to Carey's daughter to explore their ability to live on limited quantities of water and poor quality forage such as leaves and sparse grass.
Because of the low rainfall, the elevation, and the short growing season, "we couldn't make it without the animals," says Carey.
The Wood Lot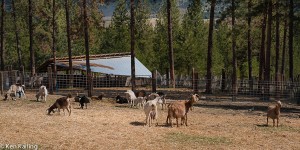 Tucked into a Ponderosa pine forest, Pine Stump Farms is both sheltered and supported, and yet it takes careful management to steward the timber properly. By combining grazing animals and trees, Albert has become an expert in timber management and silvo-pasturing.
Six times over the last 22 years, Albert and Carey have selectively cut trees from the woodlot to improve the quality of the timber that remains, to reduce fire risk, to limit the effects of pine beetles epidemic in the region, and to provide woodland pasture for the goats.
Twice a year – spring and fall – the wood lot is seeded for pasture. Because goats are browsers, they keep weeds and brush from growing up in the understory. Not only do the goats keep the wood lot open, their manure provides nutrients to fertilize the pasture.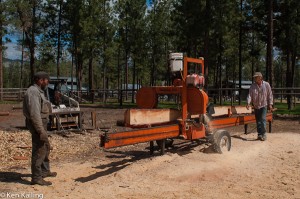 Albert is clear about his responsibilities, "My job is to be this park's ranger." He thins and prunes to keep the trees well spaced and to keep the crowns from growing together. His careful management protected Pine Stump Farms from destruction in 2002 when fire destroyed an adjacent forest and a nearby home.
A holder of "red card" certification as an experienced wildland firefighter – required by federal and most state wildland fire management agencies – Albert clearly knows how to manage timber to resist wildfire.
Both he and Carey are graduates of the Washington State University (WSU) Ag Forestry Program and they provide timber management consulting, sharing their knowledge and experience with other wood lot owners.
Energy and Water – Careful Management
Pruning, thinning, and harvesting of timber produces a lot of biomass in the form of fence posts, fire wood, wood chips, and sawdust. The firewood heats both the main house, the guest cabin, and the small living space used by interns.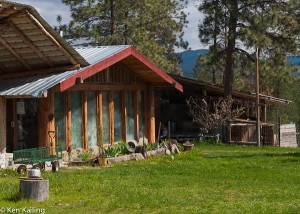 Solar power – in the form of passive solar – warms the interior of the main house and the "chicken tractor" and heats the water for the cabin shower. A new generously proportioned hoop-style greenhouse benefits from passive solar to extend the very short growing season by weeks in the spring and the fall.
In a climate where the rainfall is less than an inch – as little as a half-inch – most months of the year, water becomes a precious commodity. Through a sophisticated gravity flow catchment system no water leaves the property.
Roof runoff on out buildings and runoff and grey water from the main house are collected in holding tanks and a 4000-gallon cistern. During the summer growing season, again taking advantage of gravity, the water is piped to a large garden built on a series of terraces.
Even that isn't enough for most growing seasons; the tanks generally run dry before September, the driest month of the year.
A Network of Businesses
The Dairy
An empty nest – three grown children left home – and more milk that she and Albert could drink started Carey making cheese. "Fifteen years ago I started reneting with vinegar," says Carey. "No depth, no flavor!" Then she spent 10 years to become a cheese artist and scientist. And in 2006, Pine Stump Farms' commercial production of farmstead goat cheese was launched.
Today the selection of aged raw goat milk cheeses includes:
Havarti – firm, versatile and buttery-flavored
Crottin – goat cheese made in the French tradition
Asiago – tastes like a cross between white Cheddar and Parmesan when aged to the color of honey
Parmesan – a cooked, pressed cheese with a slightly salty, nutty, tangy flavor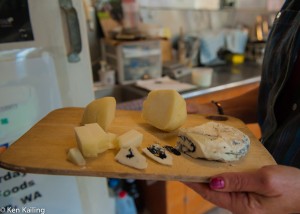 The latest cheese in Carey's repertoire is a Black Ash Queso Fresco. Cut the cheese and you will find a layer of ash spread through it. Trust me, it is an amazing combination!
The milking parlor is small and spotless and has room for 4 goats at a time. Albert has used his talents to build special fences to route the goats in and out of the milking parlor quickly and efficiently. Across the farmyard is the creamery where Carey makes her cheese. No one is allowed in with "barnyard shoes" on – cleanliness and food safety are at the top of her list.
You aren't going to find her cheese in the supermarket; Carey's chief distribution channels are farmers markets and direct sales. It's well worth going out of the way for Pine Stump cheeses!
Therapeutic Horsemanship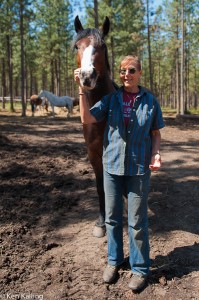 Educated to work with special needs children, Carey has developed a program of therapeutic horsemanship focused on activities to benefit differently-abled children and adults. She has worked with individuals who have needs as mild as learning disabilities or as involved as multiple sclerosis.
The benefits of caring for and riding horses are many:
balance and coordination
concentration and following directions
strength and endurance
improvement of muscle tone
communication skills
self-esteem and confidence
bonding and caring
fun and recreation
There are 8 horses on the farm – two are "retired" and enjoying an idyllic life. Albert has built specialized "mounting assistance" equipment for wheelchair-bound individuals to bring them up to the level of horse's back. "Riding on a bareback pad puts you in closer connection with the animal," says Carey. "You feel the muscles of the horse moving and you work your own muscles more."
Agro-Tourism
A small, rustic "bunk house" cabin is available for city folk who want to experience a weekend on the farm or who simply want to get away from it all. Stand still and look interested long enough and Carey will put you to work. Or you can escape by taking a trail ride or a hike in the woods.
Packages include meals of meat, fruits and vegetables, and cheese from the farm. Topped off with homemade bread, it's "zero mile" dining at its best!
The Community
As if running a farm, dairy, and wood lot wasn't enough to keep Albert and Carey busy, they both give their time to their neighbors and other farmers in many ways.
Albert shares his knowledge of farm machinery, welding, and repair through workshops and a regular column in the Tilth Producers of Washington newsletter called "Ask Albert." Carey also serves as Vice President on the Board of Directors at the state level of Tilth Producers. Albert is active Conservation Districts at both the county and state levels and he advises wood lot owners and helps them develop landscape-specific forest management plans.
If you want to learn cheese making, take one of Carey's workshops. She teaches about the roles of starter, culture, salt, synuresis (separation of the whey and curds), affinage (maturing and aging), and more. She also gives tours of the dairy, the cheese production facility, and discusses licensing and food safety requirements.
Close ties with the Hispanic community in the area – Carey teaches English as a second language – also means that she has a market for meat goats ($1/pound, live, on the hoof) for quinceañeras, bautismos, and other holidays and festivities.
And in their spare time, working together with other producers in the area, Carey and Albert helped found one of the more unusual Slow Food groups around. Far from any major urban area and made up mostly of farmers and other food producers, the group was set up to "connect producers with co-producers." Most Slow Food convivia are much more consumer-focused.
Full Circle or Triple Bottom Line?
A diversified operation like Pine Stump Farms is not simply a closed environmental loop keeping as many of the resources on the farm as possible; it is linked formally and informally with many social, community, and economic systems.
Learning, teaching, sharing and supporting, farmers like Carey and Albert are insuring that small farms will be able to grow and succeed in rural Washington and across the country. These farms together provide the foundation for the new sustainable good food system.
For more information visit: Pine Stump Farms