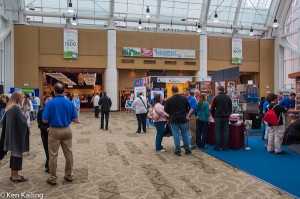 Trade shows and conferences take place in every industry with one key purpose in mind – to introduce buyers and sellers. Shows, conferences, and symposia are opportunities to introduce new products, to educate customers, and to build partnerships and relationships. Events in the various segments of the food industry are no different.
Over the last several years, GoodFood World has ventured into a number of trade events, including a number of special segments: Produce, Natural Products, Food Service, Natural Food Stores, and Farming and Organic Production. It is eye-opening to see who attends, how trends are changing, and how attitudes about food and food production vary from venue to venue, audience to audience.
Events that are primarily focused on the sale of food products, such as the Northwest Foodservice Show, Natural Products Northwest Show, the Canadian Health Food Association Expo, and the Canadian Produce Marketing Show (all of which we have attended), are especially interesting.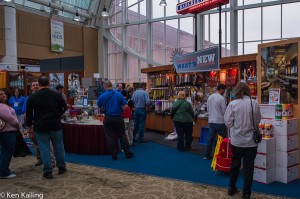 Like fashion runway exhibitions, at these shows the food and food products have been modified, beautified, even disguised. It's especially challenging to walk the floors, to wade through the so-called "natural products" and "health food" to find the real food.
The Northwest Foodservice Show combined the "food" in food service, with equipment, supplies, software, and other business services ranging from point-of-sale software and Seattle Public Utilities to Opentable, an online reservation website.
Chefs and kitchen staff enjoyed cooking demos throughout both days of the show. Informational seminars included topics like food safety, food allergies and gluten-free dining, energy efficiency and green buildings, and successful marketing.
Once on the floor it seemed difficult to find actual edibles tucked in between the exhaust fans and knife sets; although as a category "beverages," especially brewers and distillers, were very well represented – more than two dozen booths. Then add a handful more offering coffee.
A number of companies represented imported goods. While wild rice from Canadian lakes is imported and cheese from Wisconsin could probably be considered so, we had to draw the line at Chinese garlic, Japanese chilies, and imported honey (country of origin not listed).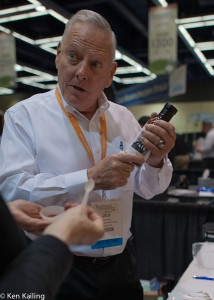 Tough market conditions have made it harder for most restaurants and food service operations to manage their costs. The drive to build efficiency and cut expenses has pushed some companies to serve – not necessarily intentionally – products that are something other than they seem.
The recent trend toward more and more transparency in the food system has thrown a light on products like "pink slime" and "meat glue." The customer is so distanced from the actual source that they don't really know what's in the food.
And the horror stories about adulterated honey and olive oil that isn't made from olives are no secret. It is critical that food service staff be well aware of the provenance and quality of the products they prepare and serve.
Dick Ryan, of Divino's Specialty Foods insures the quality and origin of the products his company represents by expensive and extensive testing. It is only with scientific evidence that he can be sure the contents of the bottles and cans Davino's offers are authentic. Dick's advice, "If it's too cheap, it isn't the real thing!"
You would think that a restaurant would be making the meals they list on the menu, wouldn't you? Not necessarily so, and institutions are even less likely to do "scratch cooking." Prepared foods are big sellers in the food service world; so if you want it breaded, baked, dried, sliced, diced, canned or frozen, you have plenty to choose from.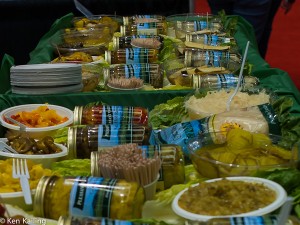 Back to real food… We did turn up some special companies that are harvesting, processing, and preparing their products mindfully and sustainably. Here are a few we think you ought to meet.
Just a few miles up Interstate 5 is Pleasant Valley Farms, where the cabbage for the their sauerkraut and the cucumbers for their pickles are grown. This is one of the last companies making pickles and kraut the old-fashioned way. The sauerkraut is made without vinegar, fermented in its own juices. And the pickles are brined for nearly 4 weeks.
We met "brine master" John Vukic who told us about their secret pickling blends from treasured 100-year old recipes. The blends typically include more than a dozen natural spices, plus garlic and sugar as called for. More than 1000 acres of cucumbers and 50 acres of cabbage are grown just for Pleasant Valley Farms in Skagit Valley, north of Seattle.
The good news: these are terrific pickles, the bad news: they aren't for sale in pints or quarts in supermarkets, just in gallon jars and 5-gallon buckets. Sorry, no website either.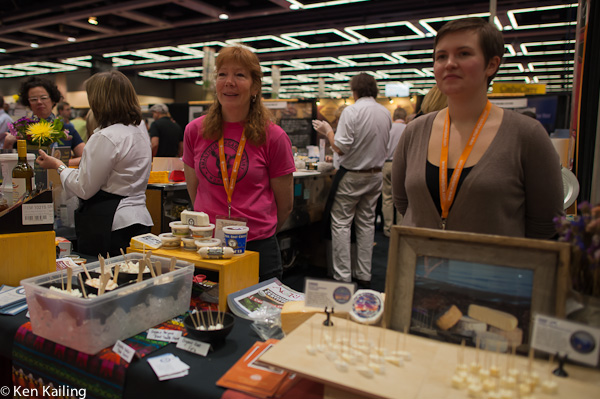 On the Olympic Peninsula, across Puget Sound, you will find Mount Townsend Creamery in Port Townsend, where they make soft, semi-soft, and aged cheeses. We sampled their double-crème Pacific Northwest Camembert and it was aged perfectly, sagging just the right amount when cut at room temperature.
The milk for Mount Townsend's cheese comes from local dairies and the cheese is still made by hand. The Olympic Peninsula has 150-year-old dairy history because the region's rolling hills and rocky soils are more suited for grazing than plowing.
Side by side with Mount Townsend Creamery at the show was Amaltheia Organic Dairy goat cheese. Located just north of Bozeman in Belgrade MT, Amaltheia is backed up to the Bridger Mountains. Pull into the drive and you'll be met by a view of hundreds of goats and kids – somewhere around 500 is the latest count.
Mel and Sue Brown milk about 250 goats and in their small cheese plant they turn out chevre, whole milk ricotta, and feta cheese. The original three flavors of Amaltheia's chevre won American Cheese Society awards in 2004 and the whole milk ricotta was called "perfect" by the Society judges.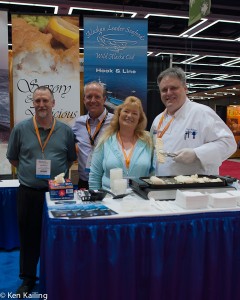 Because we are located in the Pacific Northwest which is renowned for its seafood, it was impossible to miss the fish and shellfish offerings at the show. On display were everything from Oregon pink shrimp and and fin fish from Alaska to Louisiana crawfish and oysters.
Top chefs in the US and Europe are pushing for sustainable seafood; "sustainable sushi" bars are popping up in cities across the country; and food service giants like Bon Appétit Management Company and Sodexo are offering sustainable seafood. Alaskan fish comes from the most carefully managed fishery in the world, in fact, sustainability was written into the state's constitution in 1959.
The quality and transparency of the supply chain from the boat to the plate is something we appreciate at GoodFood World and we had the pleasure of meeting Keith Singleton from Alaskan Leader Seafoods when we sampled some of the very best cod we've ever tasted. The Monterey Aquarium Seafood Watch lists Alaskan cod caught with longlines as "green" Best Choice.
Alaskan Leader Group (ALG) and Bristol Bay Economic Development Corporation (BBEDC) jointly own three fishing vessels that catch cod using a Norwegian longline system which ensures minimal by catch through a "one hook, one fish" system. Each fish is carefully brought over the rail, bled and cleaned, then quick-frozen to 30 degrees below zero.
It is the careful handling, bleeding, and freezing at sea that keeps the fish so fresh. These are not carried in a hold full of ice for days before being brought to shore. "Frozen at sea" is actually fresher than "fresh fish" generally available in markets.
At GoodFood World we have sampled and enjoyed other varieties of fish "frozen at sea" (FAS) and profiled fishermen who catch Bruce Gore Frozen-at-Sea® salmon. In A Tale of Two Fish, we researched and tracked Coho (Silver) and Chinook (King) salmon from the boat to the supermarket. Troll-caught Alaskan salmon are also a Seafood Watch Green choice.
It is suppliers and processors like these companies that we met at the Northwest Foodservice Show and others we've profiled in the past, that are carefully selecting their sources, harvesting fish with respect for the animal and the fishermen, and producing products from local sources.
A restaurant's chef or an institution's food service staff acts as a proxy for the consumer they are serving; they select and prepare the food and can unintentionally – or even at times, intentionally – shield the consumer from the source and process. More and more consumers want to know the provenance of what they eat and expect transparency along all points of the food value chain. Diners will not knowingly accept "pink slime," "meat glue," or adulterated olive oil or honey.
It is your right and responsibility to ask the chef or cook that prepares your next restaurant or food service meal, "Where did this come from? How was it produced? How has it been processed and prepared?"
And it is their responsibility to tell you, honestly and directly. Bon appétit!