Quick, what do you think of when you read "apples?" Washington! Just like "potatoes" brings to mind Idaho.
The State of Washington is the top apple producing state; growing, harvesting and distributing about two-thirds of the apples sold in the US. But apples are not the only fruit that puts the state at the top of the list; Washington is also the top US producer of pears and cherries.
In 2006, there were almost a quarter of a million acres dedicated to "tree fruit" – apples, pears, cherries, peaches, nectarines, apricots, and plums. That number remains fairly static today.
The rich lava-ash soil east of the Cascade Mountains and plenty of hot summer days and cool nights, made areas like the Yakima and Columbia Valleys the perfect growing spot for orchardists. Today the average size of an orchard is about 50 acres, but some cover as many as 5,000 to 6,000 acres.
While there are approximately 10,000 varieties of apples grown in the world, and more than 7,000 varieties grown in the US, most commercial orchards grow an assortment of 9 or 10 varieties, including: Red Delicious, Golden Delicious, Granny Smith, Fuji, Gala, Braeburn, Honey Crisp, Jonagold, and Pink Lady.
During the 1960s, controlled atmosphere storage was introduced to the apple industry and it gave a huge advantage to large commercial operations that could afford to build the facilities. The small orchardist could no longer compete.
To top it off, the industry was nearly destroyed during the winter of 1968-69 when, after a relatively mild December, temperatures dropped to 20 to 40 below zero. Trees and branches froze and entire orchards were wiped out.
It was the larger operations that could afford to replant, so many small farms simply cut down their trees and gave up growing fruit.
Change is coming slowly to the industry, and organic growers are now producing fruit on about 5% of the acres grown. The percent varies by fruit type and organic and transitional acreage is slowly increasing. New growing methods, for both organic and conventional fruit trees, result in a much higher number of smaller trees per acre. Dwarf fruit trees also make it easier to harvest the fruit.
GoodFood World visited orchards ranging from less than 5 acres to 6,000 acres and discovered families that are committed to raising the best fruit possible, with care and concern for the environment and their workers.
How a Big Orchard Gives Back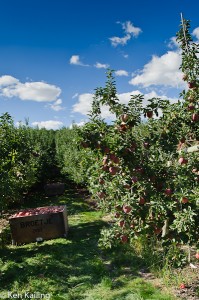 Broetje Orchards, located in Washington's Yakima Valley, was founded in the 1970s, just after the "big freeze," and now generates sales of more than $80 million from approximately 5,000 acres of conventional apples and about 1,000 acres of organic apples. At the peak of the season, more than 30,000 40-pound boxes of fruit are packed every day in an automated computer-aided processing facility.
Single varieties of apples are processed one at a time. Organics are packed on Mondays (and Tuesdays, if needed) because all equipment throughout the entire packing and shipping operation must be carefully cleaned to maintain an organic process from beginning to end. All boxes, padding, and handling materials are changed over too.
As the apples pass down the conveyors, they are rolled over and over in front of a series of cameras that check to see that the color is consistent and up to standard for the variety. For some varieties, the apples are passed under photo detectors that use special light beams to inspect the fruit for internal spoilage not obvious with external quality checks.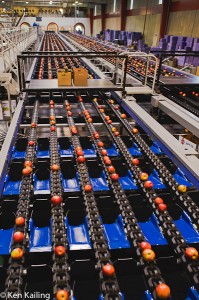 Finally each apple passes over a small, very sensitive scale where it is graded by size. A label is automatically affixed and a small gate opens to divert the apple to the proper packing line. Those apples that don't pass inspection are routed to manual sorting where they are separated into categories for peeling, cooking for applesauce, or juicing. Then the fruit is packed according to customer specifications for display cartons or for general distribution to markets that display loose fruit.
Broetje Orchards builds on a philosophy that ensures workers and the environment are well treated and cared for. Paying fair wages and providing year-round employment for hundreds of staff builds job security in the Yakima Valley. Profits from the company are shared – 5% of pre-tax profits are distributed equally to all year-round employees as part of annual profit sharing and another 5% are given as wage increases to all employees.
Orchard management follows organic and low-chemical-input growing methods for production. Broetje's conventional acreage is about 99% organic, incorporating integrated pest management, commercial fertilizer and just one post-harvest spray. Greatly reduced chemical inputs mean safer growing and harvesting conditions for the environment and the workers.
Marketing Strategy: Dedicate your company to a Quadruple Bottom Line (People, Planet, Profits, Purpose) and focus on your employees and their families.
Read more about Broetje Orchard's Quadruple Bottom Line and visit their website.
Small Family Orchards – Nimble and Creative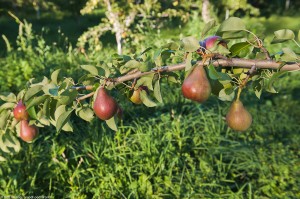 At the other end of the size spectrum, GoodFood World visited four small family orchards in north central Washington: Booth Canyon Orchard, Pipitone Farms, Sinclair Orchard, and the orchard in which the Methow Valley Ciderhouse sits.
On small organic farms of 15 acres or less, these orchardists must be especially creative to compete with large industrial operations – both commercial and organic. Each one of these families has chosen a different "value add" in which to specialize, in order to support the extra care they take and the higher prices they need to charge for their products.
Booth Canyon Orchard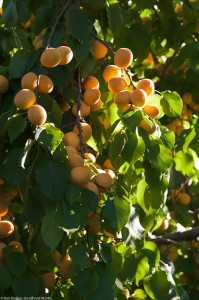 Stina Booth, and her husband John, now farm 8 acres just south of Twisp WA, and raise 10 varieties of heritage pears and more than 2 dozen heritage apple varieties. As Stina puts it, "We continue to edit our varieties – we pull out, add, and re-graft – I honestly can't tell you how many apple varieties we have."
Large commercial orchards focus on production; continually experimenting with varieties and methods that produce more fruit per acre. Stina and John, on the other hand, focus on flavor. Heirloom varieties tend to have more flavor, but at Booth Canyon Orchard, the fruit is left on the tree longer and picked riper to allow it to reach its peak taste. Stina's customers come back because the fruit tastes good and she says, "If we can't grow fruit well enough to taste good, we pull the trees out."
Booth Canyon Orchard is able to command premium prices at farmers markets in Seattle, a 4 hour drive each way, and last year had to quell a bidding war for the last box of D'Anjou pears on their final market day.
Marketing Strategy: Grow small quantities of highly flavorful heirloom varieties of fruit and deliver fruit that is more ripe and better quality than commercially grown fruit.
For more information: Booth Canyon Orchard.
Pipitone Farms, Rock Island Red Farm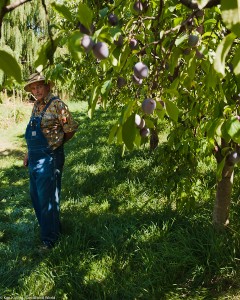 Jerry and Andrea Pipitone farm about 15 acres near the Columbia River, where they have 5 acres planted in "stone fruit" (peaches, nectarines, apricots, and plums) and they raise peppers, garlic, tomatoes, and shallots on the rest. It is Jerry's Italian heritage that seems to trigger his enthusiasm for his fruit and vegetables.
Raising stone fruit is especially challenging because of the short life expectancy of the trees. While apple trees have a productive life of many decades, and more if new varieties are grafted onto the stumps, peach trees have an effective life of 15 years, shorter than any of the other stone fruit. Some of the peach trees on Jerry's farm have just finished their 16th year and an early frost last fall hit them pretty hard.
Co-founder of the Wenatchee Valley Farmers Market in 1979 and a long time vendor at a number of Puget Sound farmers markets, Jerry revels in sharing his organic products. It's hard when your farm is small and sits on especially rocky soil – "Why do you think they call it ROCK Island?" – so what is the key to differentiation for the Pipitones?
Located on the farm is a small commercial kitchen and processing facility where Jerry and his crew make a variety of preserved products out of the farm's fruit and vegetables. By growing his produce carefully and picking at the peak of ripeness, Pipitone can control flavor and quality through the entire process. All of his products are organic and are grown for flavor not quantity.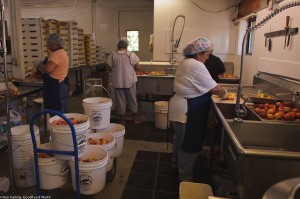 Some of the products made on the farm and sold at area markets are four varieties of low-sugar fruit spreads and syrups (apricot, peach, plum, and nectarine), hot pepper spreads, garlic spreads, salsa verde – and soon salsa roja – as well as a variety of dried fruits.
Taking full advantage of the knowledge and skills of his kitchen staff, Jerry offers processing and drying services to other small farms in the area.
Now that he has entered his seventh decade, Jerry is thinking carefully about where to go next, but his young and energetic crew gives him hope for the future.
Marketing Strategy: Specialize in a type of processing that preserves the full flavor of the fruits and vegetables that grow best in your climate and on your soil.
Mazama Juice, Sinclair Orchard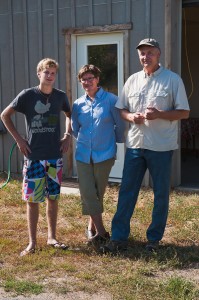 John and Beth Sinclair grow Honey Crisp apples on 8,000 trees in an organic orchard located in the Methow Valley of Washington. The orchard they bought in 2001 was one of those replanted after the "deep freeze" of 1968-69 that dropped temperatures to an all-time low of -48°F in Winthrop, less than 20 miles from the Sinclair's farm.
John took that lesson to heart when he renovated the orchard. He planted trees grafted onto a dwarf Siberian rootstock that can withstand temperatures down to -20°F. If the weather ever approaches 50-below again, there just isn't much anyone can do. In the meantime, these are plenty hardy trees.
As the orchard was making its comeback, the Sinclairs built a cider house stocked with high quality stainless steel equipment including a Slovenian wine press used to press the cider and a state-of-the-art ultraviolet pasteurizer.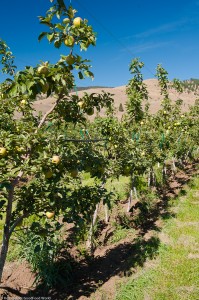 Sweet cider should be pasteurized for food safety and John's UV pasteurizer is an engineering marvel that cost effectively eliminates any risk of common pathogens like e. coli. He has chosen this method of "cool" pasteurization over "flash" pasteurization that kills pathogens by bringing the cider to 160°F for a short time. Using heat changes the character and taste of the cider; Mazama Juice has a fresh juice taste.
Bottled and labeled by hand and sold as a "varietal" cider – made entirely of Honey Crisp apples – or as a blend with other apples, Mazama Juice ciders are wonderfully tasty. The Honey Crisp cider is light, fragrant, and would be excellent with any meal. The blend is a little darker with a slightly more complex flavor.
Marketing Strategy: Produce a limited line of extremely high quality products and sell in a limited market area.
For more information: Read the GoodFood World Product Profile or visit Sinclair's website – Mazama Juice.
Methow Valley Ciderhouse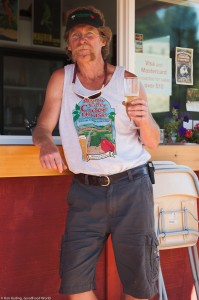 Richard and Lynne Wasson are brand new orchardists. When they moved to Winthrop WA, they had no plans to grow apples. Richard is a builder, and he expected to be raising houses, not trees. The couple is now building a brand new orchard on five of their most fertile acres.
In 2006, Richard and Lynne were visiting their college-aged daughter at school in Oregon, and he picked up a magazine in a coffee shop that sent him off to a new career. Profiled in the magazine was a hard cider brewer from Salem Oregon.
Richard made the trek to Salem and he was hooked. He is now one of 15 members in the Northwest Cider Association, which extends through British Columbia, Washington and Oregon.
Cider was one of the most important drinks in America, preferred over beer, and has been drunk on the East Coast for more than 300 years. The British brought cider to America and today the British make half the cider in the world. In fact they've been doing it for over 1,000 years.
Making cider is more like brewing beer than fermenting wine, and produces a crisp, aromatic beverage that smells a bit like sweet cider and tastes a bit like beer. (Remember this is the opinion of one who drinks one glass of wine a week – hardly a connoisseur.)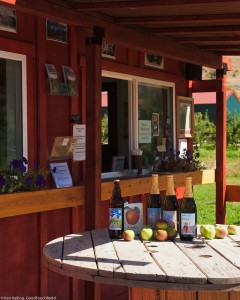 Like the right grapes for good wine, cider requires the right apples. To make a British-style cider requires trees from England. Richard is growing 12 varieties of cider apples, 6 of which come from England, the rest are North American and French. Cider apples are fairly high in acid and can be bitter when eaten off the tree.
It is especially challenging to raise English trees, which are accustomed to cool wet summers and mild winters, in a Mediterranean-like climate. The Methow Valley has hot summer days, cool nights, and cold winters with deep snow. Will these trees thrive in our climate? That remains to be seen.
Richard combines American, French, and English apples into his ciders and mixes the varieties to get the different flavors he sells. He also makes a "varietal" cider out of Kingston Black apples. The four ciders he has available for 2011 are:
Eagle Screeching Scrumpy Hard Cider
Pinnacle Goat Hard Cider
Howling Wolf Hard Cider
Honey Bear Hard Cider
To help market his products, Richard built a "tasting tent" and stage where he is licensed to sell cider by the bottle or the glass, and local musicians entertain on summer weekends.
Marketing Strategy: Replicate an artisan product with a long history in a new market and create an environment where consumers can share the experience of enjoying a beverage that has been produced for more than 1,000 years.
For more information: Methow Valley Ciderhouse.
Artisan Producers With Big Ideas
Farmers and orchardists who clearly love the land and the fruit and vegetables they grow are discovering creative ways to make unique products that consumers seek out and are willing to pay a premium for.
An apple is an apple, until Stina and John grow 25 (or more) heirloom varieties; until John and Beth make a special sweet cider; or until Richard and Lynne brew a unique English-style hard cider. And a peach is just a peach, until Jerry and Andrea dry it, make a thick, rich fruit spread, or turn it into sweet syrup.
Each of these families has found a special niche where they fit, where they can make high quality products, and where they can share the fruits of their labors with consumers who truly appreciate flavor, quality, and skill.