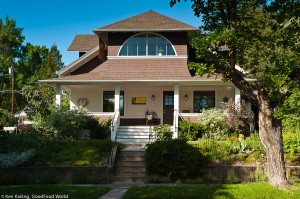 When we travel we try to stay in B&Bs as much as possible. We love meeting new people, sharing stories, and the feeling that we're at home away from home.
So what do you think B&B stands for? "Bed and Breakfast" or "Breakfast and Bed?"
If you're visiting Blossom's B&B in Missoula Montana, you'll find the accommodations are excellent – it's a restored 1910 Craftsman-style house, after all – but it's Blossom and her food that make it truly special.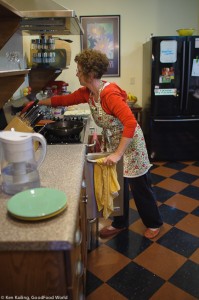 Blossom and Troy Savage have lived in Missoula for more than 30 years and that means Blossom knows exactly where and how the food she buys is grown and processed. She knows the farmer who raises her produce, the biodynamic dairy where she gets milk, and the goatherd and his dairy. And ask Blossom about tofu and she can tell you all about how it's made; years ago she did it.
While a B&B is not like a restaurant where you order from a menu, Blossom goes out of her way to make sure her breakfasts meet all of your dietary requirements. Vegan? No problem! Gluten intolerant? Check! Lactose intolerant? Got it! Hate anything the color purple? She can handle it!
Gracefully navigating the special needs of her clientele, Blossom not only serves a fresh homemade breakfast to a table full of people every day, she makes sure that breakfast is well-balanced, nutritious, and tastes wonderful. Generous with her time and knowledge, Blossom is always willing to share her recipes and give instructions on how to prepare them.
"I want people to know that the food that they're putting into their bodies is going to have an emotional and a physiological response," says Blossom. "The better you eat, the better you're going to feel!"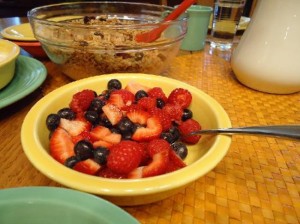 Pull up a chair and sit down. Have some fresh ground coffee or a little herb tea. Breakfast starts off with Blossom's special homemade gluten-free granola full of oats, seeds, nuts, dried cherries, and raisins, served with fresh fruit and Greek honey yogurt.
You'll have a choice of two or three different organic fruit or vegetable juices like cherry, blueberry, or orange carrot. And a main course made with fresh local organic vegetables, local cheeses, and meat or fish on the side. Entrées include Spinach Feta Pie, Fruit Crépes, Banana Buttermilk Pancakes, or Potato, Onion, and Vegetable Frittata.
Blossom says, smiling, "I give my clientele food that sustains them and tastes good. It's the way I share my love of good food."