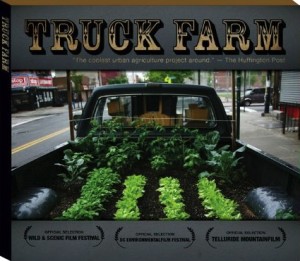 Truck Farm, Ian Cheney and Curt Ellis (A Wicked Delicate Films Production)
Truck Farm tells the story of a new generation of quirky urban farmers. Using green roof technology and heirloom seeds, filmmaker Ian Cheney (KING CORN, THE CITY DARK) plants a vegetable garden on the only land he's got: his Granddad's old pickup. Once the mobile garden begins to sprout, viewers are trucked across New York to see the city's funkiest urban farms, and to find out if America's largest city can learn to feed itself. Blending serious exposition with serious silliness, Truck Farm entreats viewers to ponder the future of urban farming, and to consider whether sustainability needs a dose of whimsy to be truly sustainable. Featuring chef Dan Barber, nutritionist Marion Nestle, explorer Henry Hudson and a very lonely seagull.
With musical narration by The Fishermen Three. Run time: 48 minutes.
Click on the cover to buy this video.