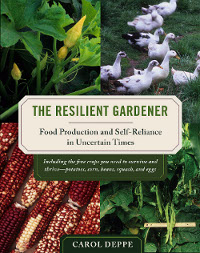 A new, one-person seed company has just been announced and it offers not only some fascinating food seeds, but the owner and seed breeder, Carol Deppe puts her varieties into the public domain. No corporate ownership of these seeds! The company is called Fertile Valley Seeds and it is Deppe's way of offering her innovative seed breeding work to gardeners, especially those in the Northwest.
Deppe has set a number of goals for her seeds: they must be non-GMO, gluten-free, capable of ripening in the short seasons of the maritime climate, and they must be non-hybrids, which means if you grow them you can save seeds that will produce the same variety next year. So what are these food crops?
Corn varieties selected for making polenta, cornbread, and johnnycakes, a popping bean, and a bean variety you can work on making further selections on – a work in progress. She will be operating the seed company only during the spring, so if you want to try some of these varieties go to her website (www.caroldeppe.com). Hopefully she will still have some of the ones you want.
In addition to her seed breeding, Deppe has written two excellent books that help gardeners and small-scale farmers expand their ability to grow their own seed and develop their own varieties of crops. These are well written, very reader-friendly, and definitely worth adding to your gardening bookshelf. Her titles are: