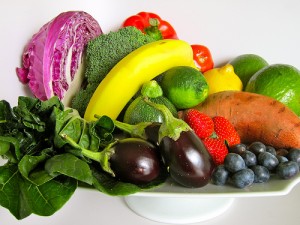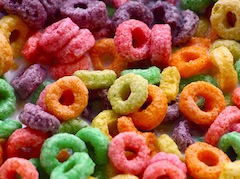 Food appeals to all our senses – smell, taste, touch, hearing and, of course, sight.
And food makers have used many ways to enhance their products to be even more appealing for thousands of years.
The use of artificial enhancements is relatively recent. In the 1800s, American food manufacturers began doctoring their wares with toxic pigments made from lead and copper. Today, while food dyes come from a wide range of sources, many artificial dyes are petroleum-based.
Why degrade the nutrient value of our food with over processing and artificial colors and flavors? Natural colors are much more than visually attractive, they provide nutritive value too.
Carotene, the orange color in most fruits and vegetables, comes in 2 forms: alpha-carotene and beta-carotene. Beta-carotene is the more common form and can be found in yellow, orange, and green leafy fruits and vegetables. Not only does it add color to our food, it is a natural anti-oxidant and is converted into Vitamin A during digestion.
Americans' exposure to artificial food dyes has risen sharply. Today we consume five times as much food dye as we did 30 years ago, according to the Food and Drug Administration.  The amount of food dye certified for use was 12 milligrams per capita per day in 1955. In 2007, 59 mg per capita per day, or nearly five times as much, was certified for use.
It is also interesting to note that of the artificial food colors that the FDA now allows for use in food, none were actually in existence in 1955. In fact, the crayola box of artificial colors we're most used to seeing on nutrition labels were approved for use in the 60s, 70s, and 80s.
1963 – Citrus Red No. 2 (used for orange skins)
1966 – Orange B (used for sausage casings)
1969 – FD&C Blue No. 1
1969 – FD&C Red No. 3
1969 – FD&C Yellow No. 5
1971 – FD&C Red No. 40
1982 – FD&C Green No. 3
1986 – FD&C Yellow No. 6
1987 – FD&C Blue No. 2
(Read more about approved food colorings here.)
In June 2008, the Center for Science in the Public Interest petitioned the FDA to ban Yellow 5 and 6, Red 3 and 40, Blue 1 and 2, Green 3, and Orange B in the United States. The British Food Standards Agency is urging companies to voluntarily eliminate the dyes and many European companies are using natural colors from beet roots, pumpkins, carrots, annatto, and paprika extract.
Artificial coloring is even used in pet food. Dogs have a very limited color range, but their owners want to buy something that has an appealing appearance, not the dull grey of cooked meat.
The biggest problem is that artificial colors make processed food like breakfast cereal, snacks and fruit-flavored drinks especially attractive to children. Those are the high-calorie, low-nutrient foods that are considered a major cause of childhood obesity.
Finally the Food and Drug Administration is following the direction of the European Parliament and examining artificial food dyes to determine whether the government should limit their use. The EU requires that foods containing those chemicals be labeled with a food safety warning.
The conclusion drawn and published in the background document now before the Food Advisory Committee reads:
Based on our review of the data from published literature, FDA concludes that a causal relationship between exposure to color additives and hyperactivity in children in the general population has not been established. For certain susceptible children with Attention Deficit/Hyperactivity Disorder and other problem behaviors, however, the data suggest that their condition may be exacerbated by exposure to a number of substances in food, including, but not limited to, synthetic color additives. Findings from relevant clinical trials indicate that the effects on their behavior appear to be due to a unique intolerance to these substances and not to any inherent neurotoxic properties.

The task before this Food Advisory Committee is to consider available relevant data on the possible association between consumption of synthetic color additives in food and hyperactivity in children, and to advise FDA as to what action, if any, is warranted to ensure consumer safety.
Our conclusion? Frankly we're committed to whole and minimally processed foods. That means keeping in the natural colors and flavors and avoiding over processing that requires adding back lost nutrients and enhancing the color, flavor, odor or texture of food! As our correspondent, Ina Denburg, says: Color My World … with REAL Food!
Update, April 1, 2011:
As expected, an advisory panel told the
Food and Drug Administration
there is insufficient evidence linking synthetic food dyes to hyperactivity in children. The group will also recommend that products containing artificial dyes need not carry package warnings. Read more at:
FDA Panel Says Food Dyes Don't Cause Hyperactivity.
________________________________________
Sources:
Reports/References:
Photo credits:
Fruitloops: Zanastardust, used with permission under Creative Commons license.
Colorful Fruit and Vegetables: joannova, used with permission under Creative Commons license.