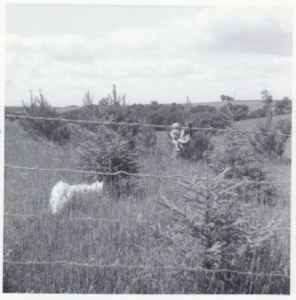 Our first season on the farm was, if not hectic, at least very busy! Along with the planting of the windbreak trees in the spring, there were neglected vegetable gardens and flowerbeds to be restored. There was a great store of aged manure in the old barn, which I proceeded, with pitchfork and wheelbarrow, to dig and apply to the gardens. An old strawberry bed sprang to life and provided us with wonderful berries in June. In July we gloried in the bounty of a huge long established red raspberry patch.
We had been delighted to find we had a big old apple tree located just outside our house yard, however in a midsummer storm with strong winds, it was up-rooted. We mourned its loss, but consoled ourselves with the promise of planting an orchard the very next spring.
A centuries-old oak tree just east of the house, whose wide spreading limbs provided shade until well past noon, also became the source of hours of joy for Lisa. All through her growing up years she spent hours swinging under that tree. So many that she and her brother Sean wore out 3 stout swing ropes over the years.
As we moved from spring into summer there were gardens to weed, a large lawn to be mowed weekly, and when the gardens produced more than we could consume, the canning and freezing to preserve the fruits of our labor for winter days.
We had been tethering our "Mama" ewe in the pasture and, as the mid-summer heat began to descend on us, we decided that we could safely turn her loose so that she and "Sure to Go" could find shade to rest in and graze when they chose.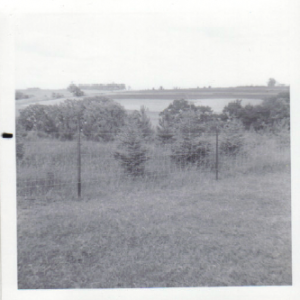 Our fences were practically non-existent, except for a line fence running along our property line just south of our driveway and an old but still serviceable fence that ran below the road from the gate, where the circle drive approaching the house began, to the yard fence surrounding the house. These were the only barriers that kept the sheep from getting into the flower and vegetable gardens. That would have been disastrous!
They had access to more pasture in the quarter mile between the house and the highway than they could ever hope to consume. They were provided with salt and water daily and were by then quite tame. So, why would they leave?
As it turns out, the final sentence in our last segment proved to be prophetic. It read "… and everywhere that Mama went her lamb was Sure to Go." And, go they did! They ran away from home – or rather, Mama ran away – and everywhere that Mama went her lamb was Sure to Go.
Little Lost Sheep
It was a sunny Saturday morning and we suddenly realized that our sheep were not to be seen. After searching around the barn, granary, and other out buildings, we returned to the house to figure out the next move.
The phone rang. It was our neighbor, a neighbor about a half-mile to the northeast by highway – a little less cutting across the fields. Our sheep were there, shut up in a shed.
The plan? I would drive my long-suffering husband Jerry, well equipped with ropes, to the neighbor's farm and he would lead the sheep home across the field. How hard could that be?
I returned to await the homecoming.
Lisa and I watched anxiously for the trio to appear over the top of the long hill to our northeast. When they finally did appear, it was clear that things were not proceeding at all well.
A few steps of progress, then one – or both – of the sheep would abruptly charge off, generally in a different direction. Then… a long pause before any homeward progress could be observed.
I watched with some trepidation, knowing my husband's Irish temper was being tested to the extreme. I was also very aware that he was not as committed as I to having a sheep flock in our future.
Now, it's never been entirely clear why he decided to put a rope on the lamb, Sure to Go; she would probably have followed her mother. One sheep is much easier to control than two! However, I was not the one running this expedition.
Apparently Jerry was not taking any chances, so while he was pretty much dragging both of them, they were doing a good job of dragging him in alternate directions.
Mama weighed around 155 to 160 pounds and Sure to Go was, by this time, a stout and muscular lamb of close to 85 pounds. Together they outweighed Jerry, so it was a long and painful journey.
By the time they were finally within earshot, there was some pretty descriptive language filling the air. To this day, Lisa remembers, "His face was really red and he was swearing a blue streak!"
They finally made it all the way home and the sheep were safely tethered, however there was no doubt that those sheep were headed for the sales barn on the next sale day, less than a week away.
It was Saturday so there wasn't much time for me to reconnoiter and for Jerry's temper to cool. It was crisis time and my only hope was to build a fence as fast as possible!