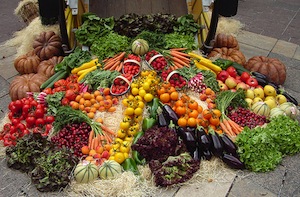 Nearly 40% of US consumers buy products that are – or contain – certified organic ingredients, a number that has held steady for the last three years. Where those consumers are shopping for those products has changed toward conventional and mass market outlets and away from natural food stores.
The "preferred outlets" for purchases of organic products and the changes in preferences:
Traditional grocers (44.1%) , up 7.6%
Target (4.1%), up 128%
Walmart (12.4%), down 33.3%
Trader Joe's (10.6%), down 6%
Other Natural Foods (4.6%), down 25.8%
Purchase rates for selected organic products: that is, the percentage of consumers buying these products:
Chicken: 13.4%
Red meat: 6.4%
Fresh fruits: 27%
Fresh vegetables: 26%
Eggs: 17%
Milk: 16%
Frozen vegetables: 6%
Frozen fruit: 4%
Natural food retailers – including food co-ops – are seeing more competition from conventional supermarkets as they add more organic offerings. Small alternative markets need to look for new and different ways to compete. Expanding educational opportunities, cooking classes, field trips to farms and small producers, are just a few programs to consider.
The Organic Product study was conducted by TABS Group, Inc.