For generations, farmers and consumers were directly connected by the food they grew and ate. In the early 1900s, nearly 40% of Americans lived on farms and much of their food was produced at home or locally. Few foods were processed other than canning, drying, salting or smoking, and typically traveled less than a day to get to market.
As cities grew, more and more people left the farms, and the food had to be brought to them. At first wagons were lined up on the streets or in empty lots. Soon these open-air markets were considered health hazards and public nuisances when the vendors – and their customers – interfered with growing streetcar traffic.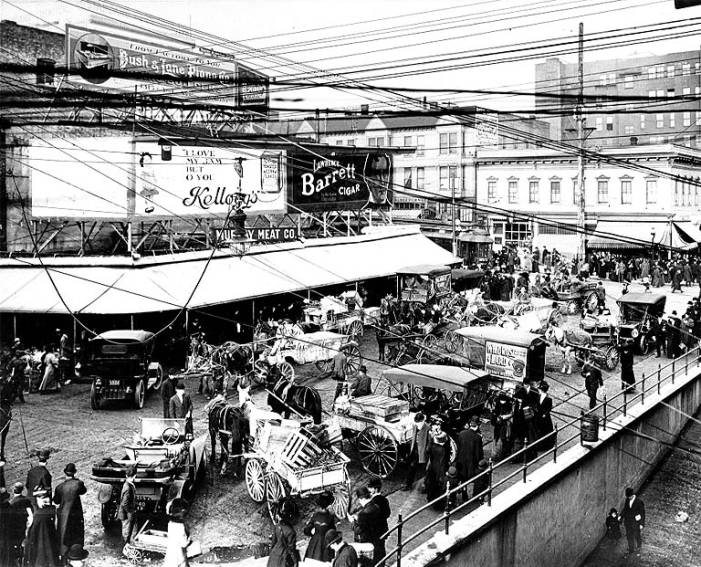 Historical indoor markets like Detroit Eastern Market (which began as Detroit Farmer's Market in 1841), Reading Terminal Market in Philadelphia (the Farmers' Market and the Franklin Market were its forerunners in 1859), and Seattle's Pike Place Market (launched in 1907), provided places where farmers could offer their wares to the public in a somewhat organized fashion.
Seattle's public market, Pike Place Market, was originally opened in response to the skyrocketing price of onions as middlemen took advantage of the burgeoning population. The city was home to 80,600 people in 1900 and by 1910 the population exceeded 237,000.
The first day of the public market was August 17, 1907, when eight farmers brought their wagons to the corner of First Avenue and Pike Street near the current location of the market. An estimated 10,000 shoppers descended on the hapless farmers and bought them out in minutes.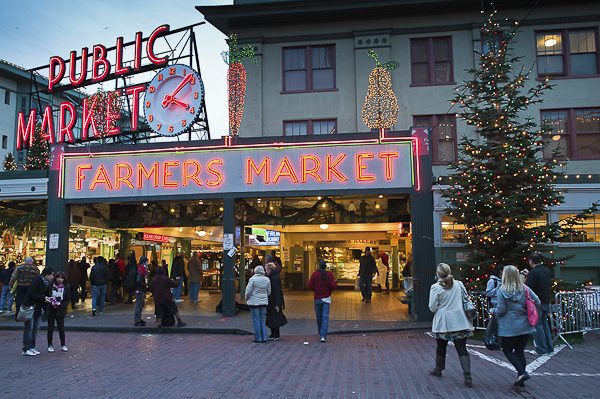 Public markets began to give way to supermarkets when the first self-service grocery store – a Piggly Wiggly – opened in Memphis in 1916. Early groceries didn't sell fresh meat or produce, and combination stores were developed in the 1920s; soon the Great Atlantic and Pacific Tea Company (A&P) groceries were common in the US and Canada.
The first true supermarket opened in New York City in 1930. Each new development took the American consumer further from the producer of her food. Following World War II, the food system shifted from local and regional to national and global networks.
Technical improvements in refrigeration and low transportation costs made it possible to ship meat, eggs, fruit and vegetables – all highly perishable – across the country and around the world. Meeting your farmer face to face was no longer possible. Corporations that had been making chemicals used in explosives suddenly needed new markets and the shift to fertilizers was an easy step.
Petroleum-based fertilizers and federal subsidies have turned corn and soybeans into fast, cheap, "edible food-like substances," as Michael Pollan calls them. As agribusinesses grew, fewer farmers were needed to grow more food and the farm population moved to the city. Now, less than 1% of our population lives on farms and we have been almost completely cut off from the source of their food.
In the face of controls by local, state and national lawmakers that have often been encouraged and even funded by the corporate food industry; an alternative food system has been fighting its way back to life. Consumers, who no longer trust that their "industrial" food is safe, are reaching out to local farmers, fishermen, cheese makers, bakers, and other producers for food that is organic, transitional, or chemical-free, and minimally processed.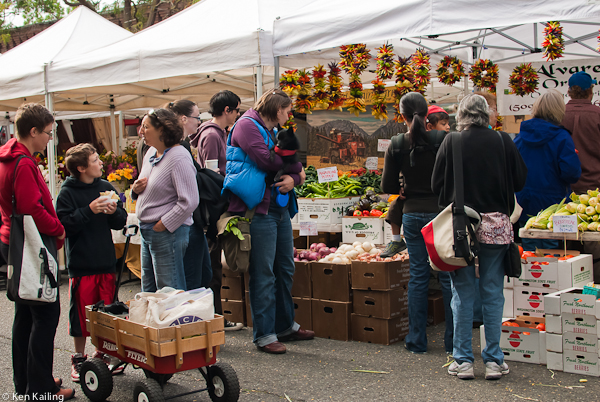 It is today's farmers market – ranging from a few trucks selling produce for a few weeks during the growing season to well-established gatherings of hundreds of vendors open year 'round – that is reconnecting American consumers to the land and to their food. Farmers markets not only give people access to good food, they are becoming the new public square and developing into lively meeting places.
The markets help nurture start-up businesses, acting as business incubators. By providing marketing, infrastructure, and sales support, farmers markets give added support to farmers who are moving into value-added (manufactured, prepared and processed) products.
The economic impact of local food spending at farmers markets benefits both the farmer and the community. More than a third of the small farms (under 100 acres) in Washington sell their products at farmers markets. For every $1 spent at a Washington farmers market, approximately 62% goes into the pockets of the farmers and the "multiplier effect" of that dollar as it moves through the region is estimated to be $2.80.
In 2010, over 6,100 farmers markets were in operation around the country and many reported record sales. Just short of 900 markets operate between November and March.
Much of the food offered in today's supermarket comes from developing countries where the producers till their soil and catch their fish to feed North Americans. Citrus, bananas, coffee and, more and more often, farmed fish and shellfish are shipped to us from around the world.
Together we can break the global, industrial supply chain by seeking out the farmers, ranchers, fishermen, dairymen, butchers and bakers who can put good food directly into our hands. Our local farmers markets are the best way to make those connections – and to take back our local food supply chain.