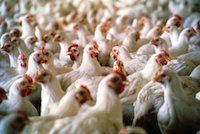 The 1921 Packers and Stockyards Act (PSA) prohibits price discrimination by meatpackers against small and midsize farmers. He will also strengthen anti-monopoly laws; change federal agriculture policy to strengthen producer protection from fraud, abuse, and market manipulation; and make sure that farm programs are helping family farmers, as opposed to large, vertically integrated corporate agribusiness.
In a case that proves the PSA can work effectivel, a group of poultry farmers were awarded over $14,000,000 in a case against OK Farms, one of the nation's largest chicken processors. Their contracts prohibited them from selling chickens to other processing companies, while OK Farms was found to have:
Exercised extensive control over almost all aspects of production and pay;
Stretched out the time between providing flocks of chickens to the growers;
Reduced the number of chickens provided;
Required that farmers make costly upgrades to chicken houses not specified in the original agreement; and
Shared information with other vertically integrated poultry processing companies that was not made available to the farmers, resulting in a severe asymmetry of information about the poultry market.
New Grain Inspection, Packers and Stockyards Administration (GIPSA) rules have been proposed – and commentary is open through November 22 – that could change how the PSA is enacted. Section 201.211 – Undue or Unreasonable Preferences or Advantages; Undue or Unreasonable Prejudice or Disadvantages – prohibits meatpackers from discriminating against family farm and ranch livestock producers by paying them less than they pay mega-producers for the same quality hogs and cattle. The value of the livestock, not the volume, should be the determining factor in setting price.
Find a section by section description of the new rules here: Monopoly Practices Divide Rural America.